The destructive impact of humans on nature and the effects of global warming are causing the polar ice to melt and threatening to disturb the ecological balance of the entire planet. Through her work, the artist and researcher, Ronit Keret, seeks to cry out on behalf of the
animals and invites us humans to wake up to the distressing reality and take responsibility for the environment before it's too late.
Keret uses the image of a horse, which appears in her different works as the representative of the animals that cannot express their distress. By being chosen, the horse also becomes a climate refugee, fleeing from its native habitat.
Ronit Keret, born in Jerusalem, is a multidisciplinary artist. She graduated from the Faculty of Arts, Beit Berl College, and holds an MA in art education from the University of Leeds, England.
Through her work over the last decade, Keret has investigated crude oil, the raw material used to make polystyrene, which causes horrifying, irreversible damage to the environment. Despite its innocent appearance, Keret's installation presents a scathing juxtaposition of the polystyrene lightly dissolving and the might and weight of the frozen polar ice. In contrast to the ice, the polystyrene will never biodegrade. In fact, it is one of the reasons for the disappearance of the
polar ice, as part of a broader environmental phenomenon.
Ronit Keret's installation is on display next to the Treasures of Biodiversity exhibition, on Level 2 of the museum, as an extension of Global Warning: The Climate, the Crisis and Us exhibition.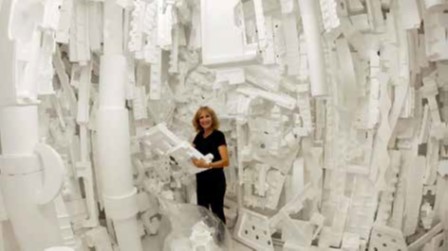 Curator: Limor Margulis
Editing and video: Eugene Romanovsky